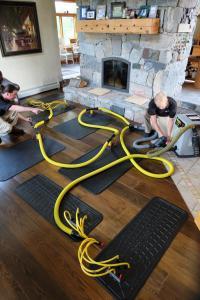 How to Dry Wet Flooring
Comprehensive water damage mitigation can be a complex job that requires an experienced team with knowledge and resources to fully address. Consider this as just a quick reference guide:
Call a restoration company who is certified with the IICRC. Most companies will give free estimates and have 24hr emergency response. A competent professional with experience and proper equipment will be able to mitigate the damage and save you from excessive repair costs.
Check for hazardous conditions such as slippery floors, wet electrical, mold and unsanitary water.
Elevate or move contents off of the floor to prevent further damage to furniture and staining to carpet.
Remove as much water as possible with a shop vac and towels. Even after the leak is fixed, any water left behind will continue to soak into the building components such as drywall and under floor-covering.
Detach the baseboard if the drywall is low enough to the floor and has wicked up moisture. If left unattended, drywall will continue to wick moisture up several feet in just a few hours. Use a multi-tool or putty knife to gently detach the trim without damaging the painted wall. Sometimes it's necessary to cut out the drywall and/or insulation as well.
Remove non-salvageable flooring. Even "waterproof" flooring such as vinyl and laminate can be ruined and trap moisture underneath if the water has flowed to the outer walls and soaked into the sub-floor. Carpet padding with a vapor barrier should also be removed. Use a knee kicker to safely detach the carpet in order to remove the wet padding. Carpet that is wet from a clean water source can most often times be re-installed after it's dried out. In order to dry wet hardwood floors, you will need specialty equipment to set up on the floor as long as the damage is less than a few days old.
Apply an EPA registered disinfectant to the wet areas. Make sure the disinfectant you use is rated for the surfaces you're applying it to. Many disinfectants are not effective on carpet. Avoid using bleach since it isn't EPA registered as an anti-microbial and is not safe to use on building components.
Set up fans and lower the humidity of the air with dehumidifiers or by turning up the heat and ventilating air to outside.
Verify that it's dry by using a moisture meter and comparing readings with that of similar components in an unaffected/dry area.